Our partners
At NJ Création, we work with compassion and diligence to bring you attractive solutions that help you through your daily life. Our hair partners take time over the essentials and are with you every step of the way.
A network of 800 distributors
across France
Every day, we work with a large number of hairdressers, prosthetists, and pharmacies across France. With our network of partners and customers, we benefit from direct feedback from users, helping us to better understand your needs.
We listen to you, build a trusting relationship, and constantly question what we do… thanks to which, we can offer you solutions that closely match your expectations! Meet our experts near you.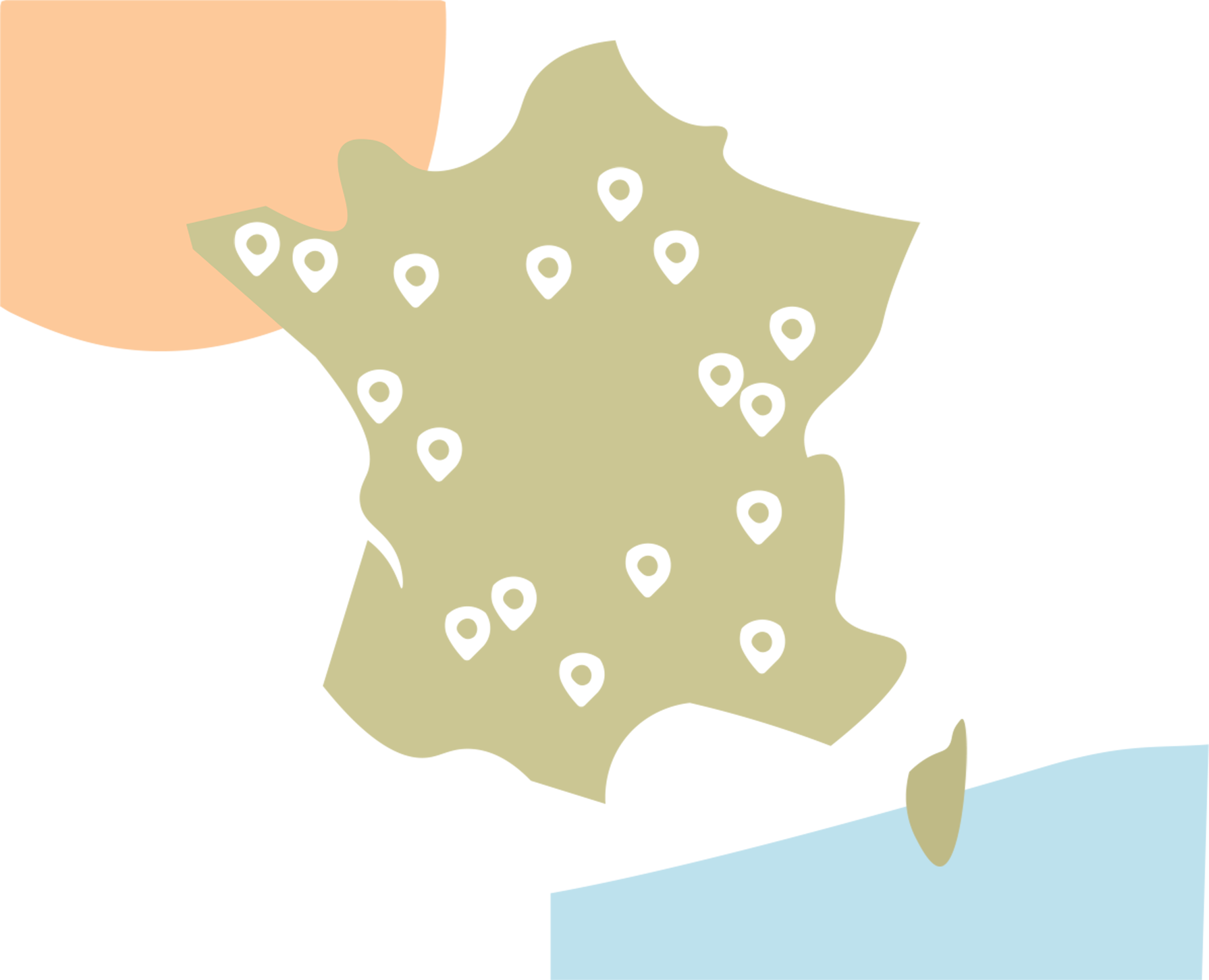 A network of 35 partners
who are haircare experts
10
CHARMEL & TCHIP COIFFURE
Mme Sonia BAES
TROYES
CHARMEL & TCHIP COIFFURE
Mme Sonia BAES
TROYES
56 rue Emile Zola
10000 TROYES
Tel. 03.25.43.83.46
Tel. 06.98.18.29.30
15
EN APARTE BY YOHANN
Nadège & Yohann GUIBERT
AURILLAC
EN APARTE BY YOHANN
Nadège & Yohann GUIBERT
AURILLAC
5 rue des Orfèvres
15000 AURILLAC
Tel. 04.71.46.98.30
Tel. 06.59.65.72.14
17
HAIR INSTITUT
Mme Cécile PROTEAU
LA ROCHELLE
HAIR INSTITUT
Mme Cécile PROTEAU
LA ROCHELLE
56 rue Gambetta
17000 LA ROCHELLE
Tel. 05.46.41.61.03
18
COIFF BOX CONCEPT
Mme Sophie VERNEUIL
BOURGES
COIFF BOX CONCEPT
Mme Sophie VERNEUIL
BOURGES
10 place de la Nation
18000 BOURGES
Tel. 06.48.76.95.41
25
INSTITUT CAPILLAIRE - KARINE ROY
Mme Karine ROY
BESANÇON
INSTITUT CAPILLAIRE - KARINE ROY
Mme Karine ROY
BESANÇON
2 rue de Brabant
25000 BESANÇON
Tel. 06.72.83.73.73
25
POP HAIR
Mme Karine ROY
VALDAHON
POP HAIR
Mme Karine ROY
VALDAHON
1 B rue de la Gare
25800 VALDAHON
Tel. 06.72.83.73.73
29
COIFFURE A 2 PAS
Mme Martine COUFFIN KAPPES
BREST
COIFFURE A 2 PAS
Mme Martine COUFFIN KAPPES
BREST
4 rue Joseph Ropars
29200 BREST
Tel. 02.98.41.97.20
Tel. 06.66.82.93.91
29
ECLAT ET NUANCES
Mme Valérie LEPEL
QUIMPER
ECLAT ET NUANCES
Mme Valérie LEPEL
QUIMPER
1 rue de la Villemarqué
29000 QUIMPER
Tel. Tél. 02.98.53.53.10
31
BEAUTE SANTE DU CHEVEU
Mme Fabienne GAUBERT
TOULOUSE
BEAUTE SANTE DU CHEVEU
Mme Fabienne GAUBERT
TOULOUSE
5 avenue Irène Joliot Curie
31100 TOULOUSE
Tel. 05.61.50.84.79
Tel. 06.15.71.41.77
33
INSTITUT CAPILLAIRE MASSON
Mme Corinne MASSON
BORDEAUX
INSTITUT CAPILLAIRE MASSON
Mme Corinne MASSON
BORDEAUX
19 rue du Palais Gallien
33000 BORDEAUX
Tel. 05.56.52.33.19
33
ESPRIT CREATION
Mme Carole MONNERAY
COUTRAS
ESPRIT CREATION
Mme Carole MONNERAY
COUTRAS
2 rue Gambetta
33230 COUTRAS
Tel. 05.57.69.40.61
34
CELINE B COIFFURES
Mme Céline BRIERA
BOUJAN SUR LIBRON
CELINE B COIFFURES
Mme Céline BRIERA
BOUJAN SUR LIBRON
40 rue de la Margeride
34760 BOUJAN SUR LIBRON
Tel. 04.67.90.01.28
40
ART ET COIFFURE - Prothésiste à domicile
M. Jean-Bernard ORPHELIN
LANDESGIRONDE
ART ET COIFFURE - Prothésiste à domicile
M. Jean-Bernard ORPHELIN
LANDESGIRONDE
LANDESGIRONDE
40600 LANDESGIRONDE
Tel. Tel. 06.22.50.63.90
43
SARL COLOR CREA' TIFS
Mme PERRIN, Mme COUDERT et Mme TALOWSKI
MONISTROL SUR LOIRE
SARL COLOR CREA' TIFS
Mme PERRIN, Mme COUDERT et Mme TALOWSKI
MONISTROL SUR LOIRE
34 avenue de la Gare
43120 MONISTROL SUR LOIRE
Tel. 04.71.75.90.42
44
COIFFURE CORALY
Mme Valérie BRIAND
BESNE
COIFFURE CORALY
Mme Valérie BRIAND
BESNE
3 rue Roche à Berthe
44160 BESNE
Tel. 02.40.01.38.49
44
PASCAL GUYON L'INSTITUT
M. Pascal GUYON
NANTES
PASCAL GUYON L'INSTITUT
M. Pascal GUYON
NANTES
12 rue du Chanoine Poupard
44300 NANTES
Tel. 02.40.76.64.71
Tel. 06.63.09.42.21
45
GARANCE ET CAMOMILLE
Mme Ingrid LECOUTRE
ORLEANS
GARANCE ET CAMOMILLE
Mme Ingrid LECOUTRE
ORLEANS
4 rue du Vieux Marché
45000 ORLEANS
Tel. 02.38.68.82.38
Tel. 06.34.53.43.58
47
SEDUCTION COIFFURE
Mme Irène LAHMADI
SAINTELIVRADE-SUR-LOT
SEDUCTION COIFFURE
Mme Irène LAHMADI
SAINTELIVRADE-SUR-LOT
56 avenue Gaston Carrère
47110 SAINTELIVRADE-SUR-LOT
Tel. 05.53.01.01.56
49
VOG COIFFURE
Mme Carole BILLY
CHOLET
VOG COIFFURE
Mme Carole BILLY
CHOLET
192 rue Nationale
49300 CHOLET
Tel. 02.41.63.08.36
50
FIGURE LIBRE COIFFURE
Mme Nicole LE BERGER
CHERBOURG OCTEVILLE
FIGURE LIBRE COIFFURE
Mme Nicole LE BERGER
CHERBOURG OCTEVILLE
55 rue Grande Vallée
50100 CHERBOURG OCTEVILLE
Tel. 02.33.53.27.60
53
SALON JOUBERT B&G
Mme Fabienne BERNARD
LAVAL
SALON JOUBERT B&G
Mme Fabienne BERNARD
LAVAL
29 rue Messager
53000 LAVAL
Tel. 02.43.66.03.15
59
SARL ROYER
Mme Séverine ROYER
HAZEBROUCK
SARL ROYER
Mme Séverine ROYER
HAZEBROUCK
69 place Général De Gaulle
59190 HAZEBROUCK
Tel. 03 28 41 99 09
62
ETS DUPUIS DOMINIQUE
M. Dominique DUPUIS
SAINT-POLSUR-TERNOISE
ETS DUPUIS DOMINIQUE
M. Dominique DUPUIS
SAINT-POLSUR-TERNOISE
69B rue De Rosemont
62130 SAINT-POLSUR-TERNOISE
Tel. 06.95.03.92.91
65
NICOLE LAURENS COIFFURE
Mme Nicole DEJEAN
TARBES
NICOLE LAURENS COIFFURE
Mme Nicole DEJEAN
TARBES
20 rue Georges Clémenceau
65000 TARBES
Tel. 05.62.51.91.21
66
PHARMACIE CENTRALE
Mme Sophie GRIFFON
RIVESALTES
PHARMACIE CENTRALE
Mme Sophie GRIFFON
RIVESALTES
9 Place du Général De Gaulle
66600 RIVESALTES
Tel. 04.68.64.09.75
69
CENTRE PLANET' HAIR
Mme Christine PERISSET
VILLEURBANNE
CENTRE PLANET' HAIR
Mme Christine PERISSET
VILLEURBANNE
10 rue Paul Verlaine
69100 VILLEURBANNE
Tel. 04.78.84.55.93
Tel. 06.50.95.17.37
76
LA CLINIQUE DU CHEVEU
M. Grégory LEJEUNE
ROUEN
LA CLINIQUE DU CHEVEU
M. Grégory LEJEUNE
ROUEN
51 rue d'Amiens
76000 ROUEN
Tel. 02.32.76.43.03
84
BEL ANGE
Mme Fabienne GRAD
AVIGNON
BEL ANGE
Mme Fabienne GRAD
AVIGNON
95 chemin du Pont des Deux Eaux
84000 AVIGNON
Tel. 04.90.87.76.02
Tel. 06.18.01.74.01
85
COIFFURE LAETI LOOK
Mme Laetitia PAVAGEAU
LA ROCHE SUR YON
COIFFURE LAETI LOOK
Mme Laetitia PAVAGEAU
LA ROCHE SUR YON
66 rue du Maréchal Ney
85000 LA ROCHE SUR YON
Tel. 02.51.37.14.22
Tel. 06.71.55.23.99
77
HAIR INSTITUT
Mme Karine MANSUY
BRIE COMTE ROBERT
HAIR INSTITUT
Mme Karine MANSUY
BRIE COMTE ROBERT
4 rue du Général Leclerc
77170 BRIE COMTE ROBERT
Tel. 01.64.05.67.70
77
BEAUTY CAPIL'HAIR
Mme Dorothée TRABIS
MITRY-MORY
BEAUTY CAPIL'HAIR
Mme Dorothée TRABIS
MITRY-MORY
36 rue de Villeparisis
77290 MITRY-MORY
Tel. 06.29.52.73.05
78
LAURA COIFFURES CONSEIL
M. Paul LAMESTA
SAINT-GERMAINEN-LAYE
LAURA COIFFURES CONSEIL
M. Paul LAMESTA
SAINT-GERMAINEN-LAYE
35 Bis rue Schnapper
78100 SAINT-GERMAINEN-LAYE
Tel. 01.39.73.06.61
Tel. 06.07.04.39.78
92
ALYSTERA BEAUTE
M. Alexandre GODARD
GARCHES
ALYSTERA BEAUTE
M. Alexandre GODARD
GARCHES
16 avenue Joffre
92380 GARCHES
Tel. 01.47.41.34.22
93
L' COIFF ISABELLE
Mme Isabelle COLLETTE
LIVRY GARGAN
L' COIFF ISABELLE
Mme Isabelle COLLETTE
LIVRY GARGAN
25 place de la Libération
93190 LIVRY GARGAN
Tel. 01.43.32.23.63
Tel. 06.23.33.49.65
94
UNIVERS STYL
Mme Thérèse GUILLET
VILLIERS SUR MARNE
UNIVERS STYL
Mme Thérèse GUILLET
VILLIERS SUR MARNE
1 place des Tilleuls
94350 VILLIERS SUR MARNE
Tel. 01.49.30.44.40
Join in our training / events